What is the best way to track your opportunities and leads? Create a sales funnel with a set of stages that reflect your product and sales cycle and move prospects through to their conclusions. Win or lose, you will gain incredible insights about your marketing and sales processes and will close more sales with less Follow Up Fatigue (FUF). Check your CRM to see if one is included as it is much easier to track opportunities with a CRM.
If you manage salespeople, your sales funnel is the lens to see the status of every opportunity. As a sole proprietor, organize leads by stage to help you prioritize the next steps. The funnel (also called a pipeline) will show you where prospects get stuck and also can be used to automate outreach at each stage of your sales funnel.
Your business and how you sell are unique. Create the right number of stages based on what you sell and your buyer's decision-making process. Create stages that drive your prospect to a conclusion. For example, if you demo your product, typically, prior to a sale, create a stage called "Demo Product." Make sure that one stage is "Deliver Proposal" as it is hard to win otherwise.
Once you have your sales funnel, you can automate personalized emails to your prospects and internal reminders to yourself to call the prospect. Time the emails and calls so your prospect knows you care. Use your "high touch" supported by your CRM's "hi-tech" and you will close more sales and reach more prospects with less follow up fatigue. Track the activity at each stage and you will learn all about your buyer's behavior patterns.
To help illustrate this, we are going to look at Ken's Kitchen, a fictitious kitchen remodeling company. Ken created a sales funnel for his business to help lead homeowners through the purchase of a kitchen remodel. He created the following funnel based on his business's needs and stages of selling:
Stage #1 – Initial interest (the consumer contacts Ken through the website or phone call)
Stage #2 – Phone consultation (Ken schedules a consultation call)
Stage #3 – Onsite visit (Ken schedules a home visit for measurements)
Stage #4 – Project estimate (Ken writes a detailed estimate and sends it to the homeowner)
Stage #5 – Estimate won or lost (Homeowner signs the contract or declines estimate)
Now that Ken has defined the stages of his sales funnel, he is going to replicate the stages in his CRM, so he can track the activity. We are using the X2CRM funnel dashboard as an example so you can see what Ken's funnel looks like.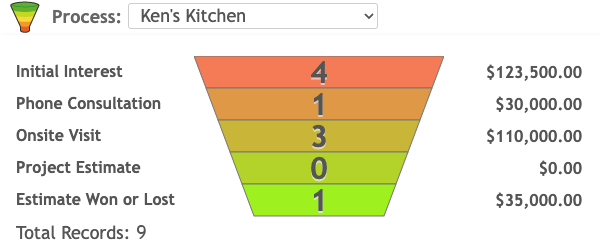 Now at any given time, he can see the following:
The number of leads in each stage
The monetary value currently in each stage
With a deeper dive, the stages where consumers likely stall in their decision to move forward
Patterns in estimates won as well as estimates lost
This data among other factors helps Ken learn about the consumer and what he can do to improve the sales funnel flow. For instance, he learned that if he does not follow up with the homeowner within 2 days after the estimate is delivered, the likelihood of the homeowner deciding to move forward decreases significantly.
Ken can drill down on each stage to see what project is at what stage. For business owners and sales professionals managing other salespeople, the data is available by a sales representative. No longer do you have to wait for your sales rep to give you an update as the data is right where you need it.
Conclusion
Selling more with less effort while reducing Follow Up Fatigue starts with defining your sales funnel. This includes expectations for both you and the consumer in each stage and then replicating the stages of the sales funnel in your CRM. As the consumer completes each stage, they move to the next stage. By doing this, you know where each lead stands within the funnel and what needs to be done to move them along. If you use a CRM and it does not align with each stage of your sales funnel, you are creating more work for yourself and increasing the risk of Follow Up Fatigue.
A CRM is essential to track lead activity through your unique sales funnel. If you are not using a CRM, contact us to schedule a free demo of X2CRM. X2CRM is an enterprise, open-source CRM. As an X2CRM Preferred Partner, we help you configure the CRM according to your business needs and sales funnel. We also train you so you are ready to use it on day one, so you can sell more with less effort.